Manhattan is New York's most famous borough and also its most visited. In fact, most people believe Manhattan to be a synonym of New York City.
Manhattan is a long island bounded by the Hudson River (to the west), the East River (to the east), and Harlem (to the north). It has a land area of 22.83 square miles (59.1 km²).  
Districts of Manhattan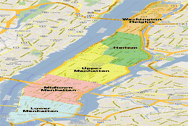 Districts of Manhattan
Lower Manhattan is the southernmost part of the island of Manhattan and the point where New York was founded. In this area, you'll find the business district and various governing bodies. The boundaries of Lower Manhattan go from the south of the island to 14th Street.
Midtown Manhattan runs from 14th Street to 59th Street (the southern part of Central Park). Its most famous area, with the greatest amount of skyscrapers, begins on 33rd Street, where the legendary Empire State Building is.
Upper Manhattan: Upper Manhattan starts in Central Park and finishes on 96th Street. The western part also includes Columbia University and the Cathedral of Saint John the Divine.
Harlem: This area begins after Upper Manhattan and finishes on 155th Street. Its most famous street is 125th Street, where you'll find the Apollo Theatre.
Washington Heights:  This area is found in the northern part of the island (220th Street). It's named after Fort Washington, a fort built during the eighteenth century to protect the area from the British.
Top Attractions in Manhattan
Ninety percent of the most popular attractions are found in Manhattan and on the island. All the life of the borough is concentrated in the area known as Midtown, north of 31st Street. In Manhattan, you'll find the unequaled Empire State Building, the Rockefeller Center, the surprising Chrysler Building, the fascinating Times Square, the controversial MoMA, and other top attractions.  
Lower Manhattan was as important in the past (the development of New York happened here) as it is now (in this area you'll find Wall Street and the financial district that so strongly determines the world's economy).
To experience the "other Manhattan" visit the north Manhattan district of Harlem.
If you want to visit Manhattan on a guided tour, check out our Manhattan Tour, or walking tour of Midtown Manhattan.
Other boroughs of New York City