Metropolitan Museum of Art
The Metropolitan Museum of Art (MET) is the largest museum in New York and also the most-visited. Discover its art collections and its masterpieces. 
The Metropolitan Museum of Art, also known as "the Met", is one of the most visited museums in New York City and is also ranked in the top ten most visited museums in the world. It welcomes over 6 million visitors a year.
Collections
The Museum was opened in February 1872, when Robert Lee Jenkins donated his private collection to the Metropolitan Museum of Art to bring Art to all New Yorkers. Since then it has augmented and now has over two million works in its permanent collection.
In its art galleries, the Met holds works of art from classical antiquity, European painters such as Monet, Cézanne or Rembrandt and modern art.
Among the most surprising collections, is the ancient Egypt section, where you can see the Temple of Dendur, magnificently reconstructed. It was given to the Americans by Egypt as a thank you for having helped save the temple Abu Simbel.
The most important collections at the MET
Although this is our favourite art museum in New York, it is not always possible to stop and see every artwork it holds as it is extremely big and would take hours. If you have little time, the most impressive galleries are the Egyptian, Greek and Roman art.  We also recommend going to the second floor to see its impressive paintings.
On the official website of the Metropolitan Museum of Art, you can find specific information about each collection:
The official website of The Metropolitan Museum of Art in New York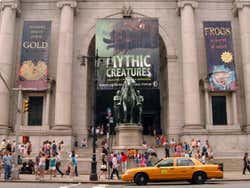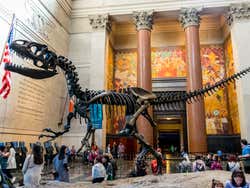 Schedule
From Tuesday to Sunday from 9:30am to 5:30pm
Friday and Saturday from 9:30am to 9pm.
Monday: closed
Thanksgiving, Christmas and New Year: closed
Price
Adults: US$ 25
Students: US$ 12
Seniors over 65 years old: US$ 17
Children under 12 years old: free entry