The Chrysler Building was the tallest skyscraper in the world for the first eleven months since its construction.
Although not as well-known as the Empire State Building, the Chrysler building is a favourite of many New Yorkers and tourists.
Architecture
The American automotive industry executive, Walter Percy Chrysler, hired the architect William van Alen to design an Art Deco style skyscraper with automotive elements to show the world the grandeur of his company and influence of the automotive industry.
The building was completed in 1930, 1,046 feet (314 m) tall, and during its first year was the world's tallest skyscraper. The inauguration of the Empire State Building on 1 May, 1931, placed it as the second highest in the world. Presently, this building is the fifth tallest building in New York City after towers like the Empire State Building and the Bank of America Tower (taller than the Chrysler thanks to its antenna).
The highest building in New York is currently the new One World Trade Center. 
Visiting the Chrysler Building
Although the Chrysler Building can't be visited, you can access the building's main hall and appreciate the fantastic Art Deco decoration.
An Interesting Fact
During the construction of the Chrysler building, van Alen competed against the architect of Bank of Manhattan Trust Building, a skyscraper that was being built on Wall Street, for which of the two would construct the tallest building.
William van Alen led everyone to believe that the Chrysler building would be smaller by constructing the crown, which was 183 feet (56m) tall, inside the skyscraper so it wouldn't be seen.
When the Bank of Manhattan Trust Building was finished, van Alen surpassed it by 36 meters adding the crown to the building in less than two hours.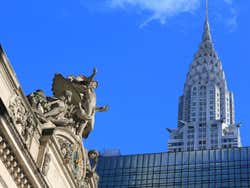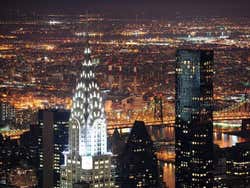 Transport
Subway: Grand Central (lines 4, 5, 6, 7 and S).
Bus: lines M42, M101, M102, M103 and M104.