As its name suggests, Chinatown is where the largest population of Chinese people live in the Western Hemisphere. Learn in-depth information about its streets, restaurants and landmarks... 
Chinatown is where most Asians live in New York. The neighborhood was created by Chinese immigrants that decided to live together in order to defend their rights and protect themselves from racism. Nowadays, Chinatown is a place that helps new immigrants that arrive in New York City every day.
The large number of Chinese living in New York is the reason why Chinatown has grown extremely rapidly and absorbed Little Italy almost completely and much of the Lower East Side. The vast majority of immigrants who came to this neighborhood are originally from Guangdong and Hong Kong.
The neighborhood's main street is Mott Street and is also its birthplace.
Best Neighborhood for Chinese Food
If you like Chinese food, Chinatown is the place to go with over 200 restaurants offering authentic Asian food.
You will find the best restaurants in the surroundings of Mott Street and Canal Street (street that separates Chinatown from Little Italy).
Counterfeit in Chinatown
Chinatown is also known for being the neighborhood where visitors and New Yorkers can buy counterfeit clothes, watches, handbags and other items.
You will find stores but also basements and houses full of these illegal items. To find them all you have to do is follow those whispering on the streets words such as Gucci, Prada or Rolex.
A Must-Visit Neighborhood
While not as large or as well-known as San Francisco's Chinatown, Manhattan's Chinese neighborhood has a unique feel to it that must be explored. The best time to experience this lively area is during the morning.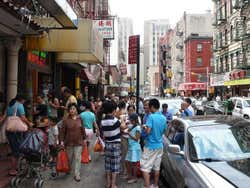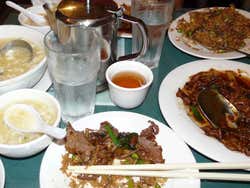 Transport
Subway: Canal Street (lines 6, J, M, Z, N, Q, R and W) or Grand Street (lines B and D).
Bus: lines M01, M103 and B51.