Queens is the largest borough of New York City. It is home to 150 different cultures and is currently the fastest growing borough. 
Queens is the largest and fastest developing borough of The City. The economy of Queens is based on art, tourism (JFK and LaGuardia airports are both in Queens) and cinema, an industry that, although was disappearing in New York, is coming back to the city.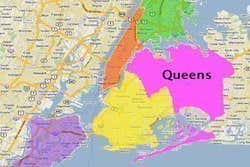 Location of Queens in New York
Since the temporary installation of the MoMA during its renovation between 2002 and 2004 and the inauguration of P.S.1 Contemporary Art Center, the area has become more touristy, especially for art lovers.
In addition, Queens is host to the U.S. Open Tennis Championship and has hosted two World Fairs, the most recent in 1964.
In terms of music, Queens is the cradle of Jazz (Louis Armstrong lived in the area mid-twentieth century) and is also one of the main reference points for rap and hip hop along with the Bronx.
Top Attractions in Queens
As well as the Contemporary Art Center P.S.1 museum (also called the MoMA PS1), you can visit the American Museum of the Moving Image (dedicated to cinema and television, it holds over 125,000 items) and the Bowne House (the oldest house in Queens, built by John Bowne in 1661).
How to Visit Queens?
If you don't have enough time to visit its museums, the best option is to book our New York Contrasts Tour, which includes a visit to Queens and the other four boroughs of New York City. 
Other Boroughs of New York City