Cathedral of Saint John the Divine
The most monumental Anglican Cathedral of the world is located in New York City. Designed in a Gothic-style, St John the Divine Cathedral is worth discovering. 
The Cathedral of Saint John the Divine is the largest Anglican cathedral in the world. It currently serves as the seat of the Archbishop of the Episcopal Diocese of New York.
History
Although the cathedral was designed in 1888, the construction didn't start until 1892. Over hundred years later, the church remains unfinished, thus nicknamed by many as St. John the Unfinished.
The most striking aspect of the cathedral is its size and the different architecture styles, as evidence of the constant interruptions in its construction.
Once you have walked through the cathedral's large bronze doors, you will see the largest rose window in the U.S., constructed out of 10,000 pieces of glass, giving the cathedral a beautiful lighting.
It is also worthwhile mentioning one of its chapels, which pays tribute to all firemen, especially those that did not survive the September 11 attacks.
A Magnificent Temple
Although it's a little far out (very close to Harlem), we recommend visiting this magnificent cathedral. You can also make the most of your trip and visit Columbia University, which is a few blocks away.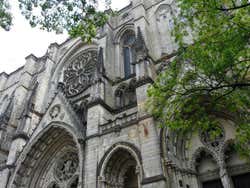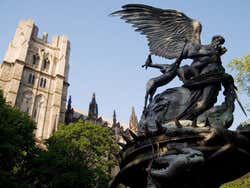 Schedule
From Mondays to Saturdays: from 7 am to 6 pm.
Sundays: from 7 am to 7 pm.
Transport
Subway: Cathedral Pkwy (110 St), lines A, B and C