Empire State Building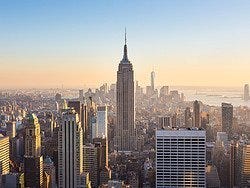 Empire State Building on a misty night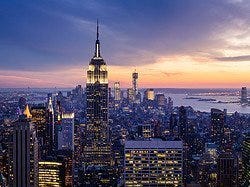 View of New York City at dusk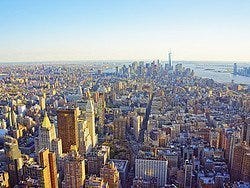 View of New York City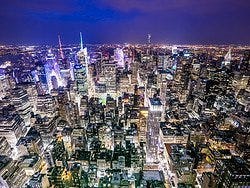 Night views from the Empire State Building
The Empire State Building was the tallest building in the world from 1931 to 1972. After the destruction of the Twin Towers, it became the third tallest building in New York after the skyscrapers One World Trade Center and 432 Park Avenue.
The 350 5th Avenue skyscraper has 102 floors and stands 1,454 feet (443 m) tall with its antenna spire included.
The building was erected in record time, taking 410 days to complete. Despite the Great Depression, over 3,000 workers were hired for the construction in 1930, building 4 floors and a half per week.
Visiting its observation decks
The Empire State Building has two observation decks, the first on the 86th floor, offering 360º degree views of the city and the second on the 102nd floor. Going to the first observation deck costs $32 and going to the second costs an extra $20.
The building attracts nearly 4 million visitors a year, and since it was first built over 100 million people have gone up to its observation decks.
Visiting hours begin at 8 am and the last lift up to the observation decks is at 1:15 am. If you don't want to queue for over an hour, we suggest going at 8 am, as soon as it opens.
NY Skyride
The NY Skyride is a motion simulator tour of Manhattan's most famous sites. It is located inside the Empire State Building.
Although in the Empire State Building they say it is one of Manhattan's top attractions, we definitely do not recommend the simulator tour. It is overly expensive ($36) and a waste of time, even if you have the New York Pass.
When to visit
Every day from 8 am to 2 am. The last lift to the observation decks is at 1:15 am.
Fares
Adults: $32.
Children (ages 6 to 12): $26.
Senior (over 62): $29.
Free entry with the New York Pass.
Transport
Subway: 34th Street/Penn Station (lines 1, 2, 3, A, C and E) or 34th St - Avenue of the Americas (lines B, D, F, N, Q and R).
Bus: lines M2, M3, M4 M5, M16 and M34.
Map
Related activities