Located in Lower Manhattan, Wall Street is one of the best-known thoroughfares of New York. Discover its top landmarks.
Wall Street is the main street of the Financial District of New York City. It includes famous buildings such as the New York Stock Exchange, built in the early twentieth century, even though it has a very modern aspect, and the Federal Hall, rebuilt in the late eighteenth century.
History 
The name of this street dates back to the seventeenth century, when it was the northern boundary of New Amsterdam. In 1652, the Dutch built a wall, which was later torn down by the British in 1699, to defend themselves from possible incursions.
Although the wall is no longer there, the name has lived on. 
New York Stock Exchange
Before the September 11 attacks, it was possible to visit the Stock Exchange and witness the lively atmosphere from the top level of the building. Nowadays, it is no longer open to tourists.
When to Visit?
To presence the bustling atmosphere of this area we recommend you visit Wall Street from Monday to Friday during working hours. On the weekends, the landscape is completely different.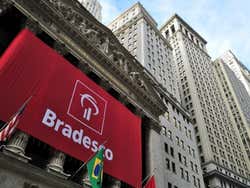 Transport
Subway: Broad St. Station (lines J, M and Z) or Wall St. Station (lines 2, 3, 4 and 5).
Bus: lines M1 and M6.