The One World Trade Center (1WTC) is the most important building of the new World Trade Center, established to substitute the complex wrecked in the September 11 attacks. 
Construction
The construction of the building began on 27 April 2006, nearly 5 years after the Twin Towers were destroyed. Nevertheless, the first cornerstone was laid on 4 July 2004 - two years earlier, in a symbolic ceremony. During the first years, the skyscraper was known as Freedom Tower. The skyscraper was inaugurated on the 3 November 2014.
The architect David Childs and Skidmore Owings & Merrill company were commissioned the design of this new skyscraper. The designer had previously created the Burj Khalifa in Dubai, the Willis Tower in Chicago and Jin Mao Tower in China.
Standing 1,776 ft (541 m)-tall, it is currently the sixth highest building in the world. The tallest is in Asia. The rooftop stands 417 meters high, the same measurements as the first tower in the original World Trade Center.
One World Observatory
Inaugurated the 29 May 2015, 13 months after the skyscraper was opened to the public, the One World Trade Center observation deck, known as the One World Observatory, has become one of the most popular tourist attractions in New York. It offers unimaginable panoramic views of New York.
The One World Observatory occupies the last three floors of the skyscraper (floors 100 – 102) and reaches a height of 386.5 meters. It is the tallest observatory in New York. The 360° views give visitors a vision of up to 80 km in all directions.
Sadly, unlike the observations decks of the Empire State and Rockefeller Center, the One World Observatory does not have an outdoor terrace, it is all interior with large glass windows. This makes it is harder to get a good photograph and visitors won't feel the pulse of the city like on the other viewpoints.
Worthwhile, But…
If you enjoy modern architecture and want to observe New York City from its new iconic skyscraper, we recommend the One World Observatory. The whole experience, from as soon as you walk inside the building, take the elevator covered by led panels that recreate the growth of the city from it once founded.
This said, the city's best viewpoints are without a doubt: The Empire State Building Observatory followed by the Top of the Rock, since both offer different sensations. The One World Observatory would be our third favorite.
Skip the Line Tickets
The number of tickets is limited by scheduled turns, which means, that visitors must buy their tickets in advance. If not, the waiting line can be several hours long.
To avoid wasting time in tiresome lines, we recommend visitors pre-book tickets. These can be printed out or on downloaded on the smartphone: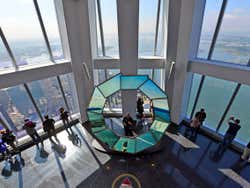 Schedule
Open every day of the year: 9am -10pm. 
On certain dates the landmark closes at 8pm.