Opened in February 1913 and remodelled in 1998, Grand Central Terminal, also known as Grand Central Station, is one of New York's most impressive architectural structures, which has changed very little in over a century.
History
The present building, opened in 1871, was built over the old Grand Central Station, a name still used by many to refer to the current train station.
The construction of the Grand Central Terminal came about due to the necessity of modernising the train system; no longer using steam trains and including a lower level of tracks. It took ten years to complete.
The Decline
During the 1950s, trains were no longer in such demand due to the boom of the automotive industry and the new residential areas in New York. These, plus the fact that the price of land was increasing, put in jeopardy the existence of Grand Central Terminal.
To save the station a new shopping area was built inside Grand Central Station and the offices it had at the back of the building were sold.
This sale of the offices led to the construction of the Pam Am (now MetLife) skyscraper, 59 floors tall.
Inside Grand Central
Over 100,000 people use this station on a daily basis, but the number has to be multiplied several times if you take into account all those that visit its shops, restaurants or simply visit and photograph the Train Station.
The most striking aspect of Grand Central Terminal is its hall. Vanderbilt Hall serves as the entrance area, and has over 12,000-square-feet of space. Apart from its size, it is also worthwhile taking a look at the decoration and ceiling.
A Must-See
Few tourists miss out on visiting one of the most impressive halls in the world and one of the most famous train stations in the world. It's a definite must.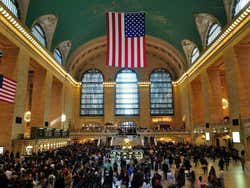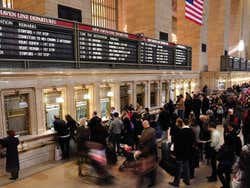 Transport
Subway: Grand Central Terminal, lines 4, 5, 6, 7 and S.
Bus: lines M1, M2, M3, M4, M5, M42, M98, M101, M102, M104 and Q32.