Brooklyn Bridge
Immortalised countless times in films and series, the Brooklyn Bridge has become one of the world's most famous bridges. Films such as Manhattan, Saturday Night Fever, Godzilla or Deep Impact have included this nineteenth century architectural masterpiece connecting Manhattan and Brooklyn in their scripts.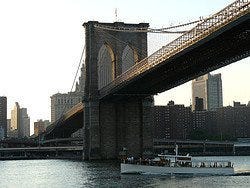 Brooklyn Bridge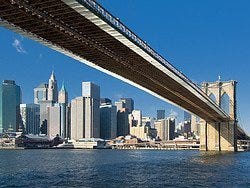 View of Brooklyn Bridge from a tour boat
The Brooklyn Bridge became the first steel-wire suspension bridge to be constructed. It was opened in 1883 after 13 years in construction, resulting in the death of 27 people. It has a span of 1,595.5 feet (486.3 m), and a distance of 500 m between its two towers.
If you cross the bridge at night, you will see all of Manhattan's buildings lit up, one of the most characteristic images of New York City.
Curious facts
Little after opening, 12 people were crushed whilst crossing the bridge by a human stampede because of rumours that it was collapsing.  
The Brooklyn Bridge was designed to avoid the problems that boats crossing the river faced when it was frozen during the winter months. When it was built, Brooklyn and Manhattan were still independent cities.
Since it was inaugurated, many people have dared to jump from the bridge, either as a bet or for the thrill of it. The first person to jump and survive was Clara McArthur in 1895.
Location
Between Manhattan and Brooklyn
Transport
Subway: Brooklyn Bridge - City Hall Station, lines 4, 5 and 6.
Bus: lines M9, M15 and M22.
Map
Hotels nearby