Established by the first immigrants that arrived in New York, Lower East Side is a multicultural neighborhood, which is extremely interesting. Discover all its top sights and most important streets. 
Close to Ellis Island, the Lower East Side still preserves the essence of the multicultural origins of New York. The Lower East Side extends from Chinatown and Little Italy to the East River.
Although it began as a thriving neighbourhood with the arrival of immigrants during the nineteenth century, it soon became an area where those with low incomes managed to live thanks to cheap accommodation.
The most important streets of Lower East Side are Bowery Street and Orchard Street. The Lower East Side Tenement Museum (97 Orchard Street) is a six floor building where you can still appreciate the living conditions of the first immigrants.
Other Top Attractions
Although the most interesting thing to do in this neighborhood is walk around its streets to get a feel of the area, Lower East Side also offers:
Katz's Delicatessen (205 E. Houston Street): One of the most famous New York delis. It is famous for its delicious dishes and for having been the set for the film "When Harry Met Sally".
Eldridge Street Synagogue (12 Eldridge Street): This synagogue was completed in 1887 at a cost of $100,000, very high for its time. Currently, it is used as a museum.
Essex Street Market: Famous for its food stands.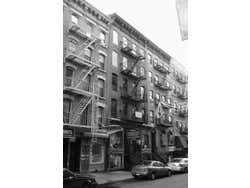 Transport
Subway: Grand Central (lines 4, 5, 6, 7 and S).
Bus: lines M42, M101, M102, M103 and M104.