9/11 Memorial
Built in remembrance and honour of the victims of the terrorist attacks in the World Trade Center, the memorial is an oasis of peace in the heart of New York City as well as a constant reminder of the loss of lives and also a sign of hope for the future.  
Visiting the Memorial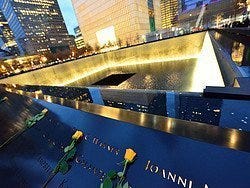 September 11 Memorial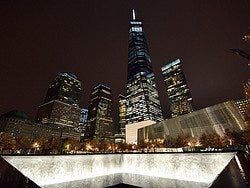 September 11 Memorial, World Trade Center
Located in the World Trade Center site, the monument takes up half the plot and is a surprising space of tranquillity and peace in the middle of one of the busiest areas of Manhattan.
Two large square pools, each with a waterfall, have been built where the Twin Towers stood. The victims' names have been inscribed on the sides of the pools.
Four hundred oak trees have been planted in the space surrounding the fountains, giving the Memorial an ever changing and living aspect and adding to the serenity of the place. Among the many white oaks is the "Survivor Tree", a tree that was recovered from the debris of the attacks and has been kept in the World Trade Center site as a sign of rebirth and survival.
9/11 Memorial Museum
The 9/11 Memorial includes a Memorial Museum that commemorates the attacks. The museum houses over 10,000 items, including testimonies, objects belonging to the victims, material recovered from the rubble and other objects that give an idea of what many suffered that day.
You can find out more about the museum here. 
Definitely worthwhile visiting
The 9/11 Memorial is definitely worthwhile visiting for all travelers. The site has a special energy that will not leave anyone indifferent.