Gospel Church in New York City
Every city has museums and theatres, but do they have gospel churches? This unusual activity is a must and one of the most popular things to do in New York. 
You'll find museums and theatres in all cities, but will you find a Gospel Mass? It is certainly not the most usual of activities, but definitely one we highly recommend. Choirs, music and dancing are some of the best ingredients you'll find in a Gospel Church.
Where and When?
Although you can find Baptist Churches in all of Harlem, one of the most famous churches and one we were lucky to attend is the Antioch Baptist Church. Here you'll feel very welcome and it's a great place to enjoy the Gospel experience.
Although there are different masses, we suggest attending the 11 am Mass on Sunday. 
What to Wear and Where to Sit?
It is a good idea to dress conservatively and well (long trousers, shirt, dress, etc) for this type of event in order to respect the worshipers.  It's a very important event for them and they tend to dress-up, something that you will notice when you walk into the Church.
Tourists are welcome in this temple, but it's advisable to sit at the back to let the worshippers sit at the front, and also to be able to leave when you like, since the Church Services are over two hours long.
The Easiest Way to Assist a Gospel Mass
The most hassle-free way to experience an authentic Gospel Church and at the same time to discover the top attractions of Harlem, is to book our tour: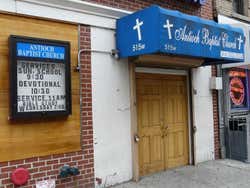 Schedule
Every Sunday at 11am.
Price
Free entry. They pass an envelope for donations.
Transport
Subway: 125th St. Station, line 1.