Little Italy is now an extremely small neighborhood; however, it was originally populated by the first Italian immigrants that arrived in New York. Discover the best things to see and do and its main streets. 
Located north of Chinatown and separated on the East Side by Canal Street, Little Italy is the area where the first Italian immigrants settled.
Little Italy is currently being taken over by Chinatown and other neighborhoods and is becoming smaller and smaller in size.
Mulberry Street
The neighborhood's most important street is called Mulberry Street. Here you will find the best Italian restaurants and bars.
If you have a sweet tooth, we recommend visiting New York's oldest and most famous bakery: Ferrara Bakery & Cafe on 195th Grand Street.
Mulberry Street was also the heart of the Italian mafia.
The Feast of San Gennaro
The Feast of San Gennaro is held in Little Italy for 11 days during the month of September and is considered by many the oldest and most important feast of New York. It was originally held to celebrate the Patron Saint of Naples.
During this feast, Mulberry Street witnesses a festive atmosphere with religious processions, colourful parades and ethnic food stands where you can taste zeppole and cannolis.
On the last Sunday of the Feast there is a large procession at 2 pm and the statue of San Gennaro is carried down the streets of Little Italy.
Authentic Italian food
Although all of New York is famous for its pizza, it is never a bad idea to try its original recipe in the neighborhood where the first pizzeria opened in the U.S.
If you want to make the most of your visit to this area and also visit Chinatown, we recommend going around midday (first having visited Chinatown).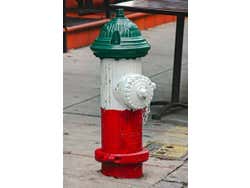 Transport
Subway: Bowery Station (lines J and M), Grand Street (lines B and D) or Canal Street (lines 6, J, M, Z, N, Q, R and W).
Bus: lines M01, M103 and B51.