Niagara Falls
With a vertical drop of 165 feet (50 m) and 3,409 feet (1,000 m) wide, Niagara Falls are located between the Canadian and American international borders, about 400 miles from New York City, and are considered one of the most beautiful phenomenon in the world.
Given its name by the Iroquois Native American tribe, Niagara means "water thunder". These three water falls are unique in the world and attract millions of visitors each year.
What to see in Niagara Falls?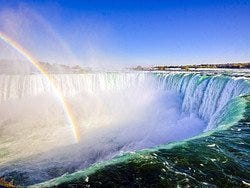 Niagara Falls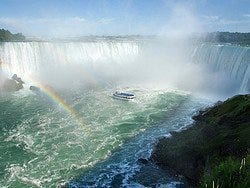 Niagara Falls in Canada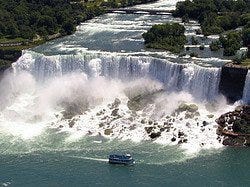 Niagara Falls in the United States
Niagara Falls provide such a breath-taking view that they are not easily forgotten. Here are some of the essential sightseeing spots:
Maid of the Mist: This boat takes its passengers on a surprising boat trip underneath the waterfalls.
Journey Behind the Falls: You'll be able to visit the waterfalls from inside a tunnel that takes you extremely close with a stunning view.
Horseshoe Falls: With the shape of a horseshoe, its 2,600 feet brink length is the most astonishing part of Niagara Falls due to the amount of water that passes through it.
Goat Island: This uninhabited island is found in front of the falls and is an extremely popular viewpoint thanks to its ideal location.
Bridal Veil Falls: This is the smallest waterfall, but, it is very interesting to walk to its base via the Cave of the Winds.
Table Rock: On the Canadian side of Niagara Falls, it is one of the best viewpoints for its visitors.
How to get to Niagara Falls?
There are several possible ways to get to Niagara Falls from New York City:
Day-trip to Niagara Falls: The easiest and most comfortable way of visiting the waterfalls from the Big City is by booking a one-day trip. You won't have to worry about the flights or renting a car and you will visit the best sightseeing spots on the Canadian and U.S. borders. You can book the day-trip here. 
By plane: The closest airport is the Buffalo Niagara International Airport. It takes about 10 minutes to drive to the Falls. You can also fly to Toronto's Pearson International Airport or to Rochester, a little further away from Niagara Falls. From the different airports, you can rent a car or take public transport.
Rent a car: If you prefer to drive and have enough time, you can drive the 400 miles (640 km) to the Falls, and make the most of the country's inexpensive petrol. You can rent a car here. 
Location
Northeast of New York, on the border between Canada and EEUU.
Map
Related activities