The Frick Collection is an art museum housed in the former residence of Henry Clay Frick, an American art collector.
The Frick Collection is one of the most prominent art museums in New York.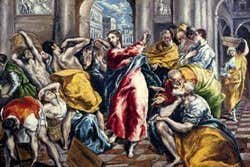 Christ Driving the Money Changers from the Temple
As special as the art collection itself is the building. Henry Clay Frick's art collection is housed in his Gilded Age Mansion on Fifth Avenue. The manor has sixteen incredibly decorated rooms, where the art collection is revealed. The mansion was built between 1913 and 1914.
The collection has grown both in size and in works after the death of Frick in 1919.
Visiting the Frick Collection
The visit takes place in all the rooms of the mansion. The hall, stairs, library, living-room and interior garden are some of the most fascinating spaces. In each room, there are paintings and sculptures of artists such as Vermier, Bellini, Goya, El Greco or Rembrandt.
A nice detail is that the audio guide in English is free.
Surprising and Different
Even though we weren't expecting much from this visit, the Frick Collection was the most pleasant surprise of our trip. It is definitely one of the top attractions in New York and we highly recommend it. Even if you're not much of an art fan, the mansion and its decoration will not leave you indifferent.
To keep in mind if you're travelling with children: children under ten are not admitted.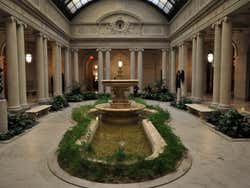 Schedule
Tuesday to Saturday: 10am to 6pm.
Sunday: 11am to 5pm.
Monday and Bank Holidays: closed
Price
Adults: $22
Seniors (over 65): $17
Students: $12
Sunday: Pay what you wish from 11am to 1pm.
Members: Free entrance