TriBeCa New York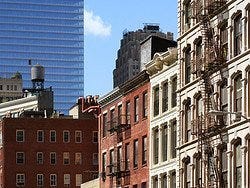 TriBeCa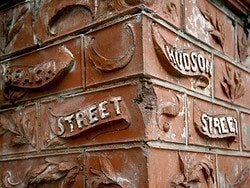 Hudson Street and Beach Street
TriBeCa is located in lower Manhattan and is an acronym of Triangle Below Canal (making reference to Canal Street). 
History
This neighborhood started developing as soon as SoHo became popular and fashionable, and the rents went up. The same young artists who had moved to SoHo in the early years, moved to TriBeCa to repeat the same phenomenon.
In part, TriBeCa's fame is due to the efforts made by the New York actor Robert De Niro, who found the Tribeca Film Center and the Tribeca Film Festival in the neighborhood.
A trendy neighborhood
TriBeCa is considered an area full of shops, art galleries, bars and restaurants. In this territory live celebrities such as Scarlett Johansson, Heather Graham, Mariah Carey, Justin Timberlake, Meryl Streep, Leonardo DiCaprio and Robert De Niro.
Location
Between Canal, Chambers, Broadway and West St.
Transport
Subway: Franklin Street - IRT (lines 1 and 2) or Canal Street - Ind (lines A, C and E).
Bus: lines M05, M20 and M22.

Map
Hotels nearby