American Museum of Natural History
The American Museum of Natural History is a great museum for both children and adults. Find all the necessary information about this entertaining museum. 
Since it was founded in 1869, the American Museum of Natural History is ranked at the top of the best Science museums worldwide. Its collections contain objects that record the history of the natural world and human cultures.
Exhibitions
There are over 35 million specimens of fossils, plants and human cultural artefacts, among other objects displayed. This museum holds the most extensive collection in the world. For lack of space and visitor's time, not all objects are exposed at the same time.
Some of the most interesting exhibitions include the Biodiversity and Environmental Halls (with hundreds of stuffed animals), the Properties of Minerals section and Looking Inside Meteorites. Lastly, the dinosaur hall, whichincludes fossils and real-life size reproductions, is not to be missed.
For all Ages
This museum is recommended for all ages, but the happiest visitors are normally children. This is probably due to the hall's 94-foot (29 m) long blue whale model suspended from the museum's ceiling and the dinosaur section. 
If you don't have much time to visit this museum, we recommend being selective and going to the halls that you'll find most interesting:
Useful website if you want to visit this museum: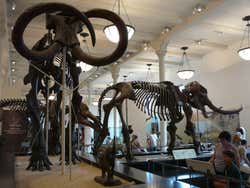 Schedule
Every day from 10am to 5:45pm.
Thanksgiving and Christmas Day: closed
Price
Adults: $23
Children (ages 2-12): $13
Students and seniors: $18
Free with the New York Pass.
Transport
Subway: 81st St. Museum of Natural History Station, lines B and C.
Bus: lines M7, M10, M11, M79, M86 and M104.