Ellis Island
Between 1892 and 1954, Ellis Island was the gateway to the United States for over 12 million immigrants. It is believed that over 100 million Americans are descendants of the newcomers that landed on Ellis Island.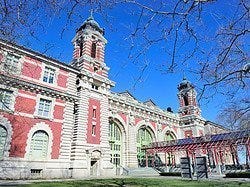 Ellis Island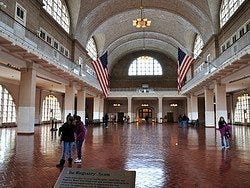 Registry room for immigrants
Ellis Island Immigration Museum
On Ellis Island there was a main building for the administrative control of all new comers, a hospital for those that arrived poorly, a dormitory building, a port and buildings for those with transmissible diseases.  
Interestingly, the largest number of immigrants landed on the 17 April, 1907, 11,747 to be exact. 
Immigration Museum
After several decades of neglect, the Immigration Museum was opened in 1990. In this museum you will find photographs and personal items, among other objects from the period. You'll witness the different sanitary controls that took place and how the very unfortunate were deported.
The museum is found on three floors of the Island's main building. Outside you will find the "Wall of Honour" with over 600,000 names of immigrants that landed on Ellis Island.
To get to this location you will have to take the ferry from Battery Park.
A definite must-see
The United States' multicultural essence can be appreciated in this fascinating place, where many arrived seeking new opportunities. In the perfectly restored buildings, you are able to experience how the arrivals were and reading some of the immigrant's stories can sometimes be overwhelming.
Ellis Island is quite big and if you stop to read some of the immigrant's tales, the visit will take you approximately three hours.
Location
Southeast of Manhattan
When to visit
Depending on the season, the ferries normally start operating from 8:30 am to 9:30 am. To get back to Manhattan, the last ferry leaves Liberty Island at 4:30 pm.

Open every day of the year except on 25 December.

Fares
The ferry price includes a visit to Liberty Island and Ellis Island.
Adults: $18.
Children (ages 4 to 12): $9
Seniors (over 62): $14.
Free with the New York Pass.

Transport
Ferry from Battery Park. To get to this dock:
Subway: South Ferry (line 1), Whitehall St/South Ferry (lines R and W) or Bowling Green (lines 4 and 5).
Bus: lines M1, M6 and M15.

Map
Hotels nearby