9/11 Memorial Museum
Opened in May 2014, 13 years after the tragic terrorist attacks that changed the world, the 9/11 Memorial Museum, also referred to as the National September 11 Museum, honours the nearly 3,000 victims of the tragic incident.
Motive for building the museum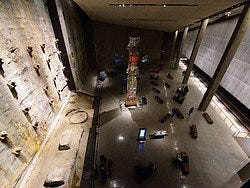 September 11 Museum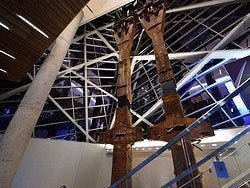 Main Twin Tower columns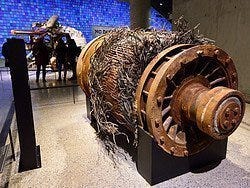 Elevator motor of one of the Twin Towers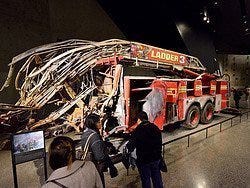 Fire engine used on 9/11
The 9/11 Memorial Museum serves to document the events and to honour the victims of the two terrorist attacks on the Twin Towers of the World Trade Center and those of the terrorist attack on 26 February, 1993, when six people were killed and over a thousand wounded in one of the Twin Towers.
Exhibition 
The museum's collection has over 10,000 objects, which include survivor's testimonies, photographs, victim's items, artwork made to commemorate the victims, objects recovered from the rubble, the Twin Tower's pillars, audiovisual material made by the terrorists…among many other items.  
Some of the Museum's most shocking objects include those recovered from the debris, including the first vehicles to arrive on location, like a fire truck and security videos where you can see how the terrorists pass the security check-points.
One of the most recent items is the uniform of the soldier who killed Bin Laden, the terrorist who organized the attacks.
Audiovisual documents
During the visit, you can see two documentaries (one 15 minutes long and the other 10 minutes long) that we highly recommend. "Facing crisis" includes unaired interviews with those directly involved in the decision making – like President George W. Bush and New York's Mayor. "Rebirth at Ground Zero" is an account of how they renovated the area after the attacks.
A must-see
The material, the building and the emotion you feel has made the 9/11 Memorial Museum our favourite museum. We highly recommend it and believe it to be one of the best museums worldwide.
To discover the museum will take visitors minimum 2 hours, but one could spend a whole day in the Memorial Museum and not see everything there is to see.
Location
World Trade Center, Lower Manhattan
When to visit
Monday, Tuesday, Wednesday, Thursday and Sunday: 9 am to 8 pm.
Friday and Saturday: 9 am to 9 pm.
The last ticket is sold two hours before closing hours.

Fares
Adults: $24
Seniors (over 65): $18.
Children (less than 18): $15.
Children (less than 7): free entry

Transport
Subway: Chambers Street, lines A, C, 1, 2 and 3, Fulton Street, lines A, C, J, Z, 2, 3, 4 and 5, Park Place, lines 2 and 3, World Trade Center line E.
Bus: lines M5, M20, M22.
Map