Inaugurated in 2019, Vessel is a series of interlinked staircases connected by various platforms, making for a great viewpoint in the middle of Hudson Yards.
New York's Staircase
Since its inauguration in 2019, this futuristic steel building has become one of the main attractions in Hudson Yards, the major urban plan to the East of Manhattan. It's at the end of the High Line, and was designed by the English architect Thomas Heatherwick.
The Vessel, as indicated in its name, is in the form of a cup. Its interlinked stairs and copper steel panels reflect the surroundings of the structure - and the Vessel is formed by 2,500 stairs. Although it is not necessary to climb them all, if you find a good spot among the labyrinth you can get great views. There is also an elevator available for those with reduced mobility.
The Vessel, at 45 metres tall, is not huge compared with other skyscrapers in New York, such as the Empire State, or the Rockefeller. Nonetheless, we consider it an excellent place to see the buildings of Hudson Yards and nearby. It has a unique shape and has quickly become one of the Big Apple's most iconic buildings.
Visiting the Vessel
The vessel has quickly become one of New York's most popular attractions, so we recommend that you book your tickets ahead of time to avoid the long lines that often form, and in this way you can choose your time slot and visit in peace.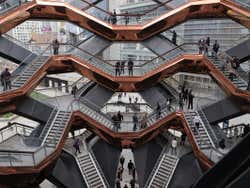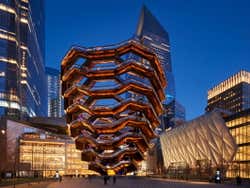 Schedule
Daily from 10 am to 9 pm
Transport
Subway: Line 7 (Hudson Yards)