St Patrick's Cathedral is an iconic symbol of New York. Built in honor of St Patrick, Patron Saint of Ireland, it was established in a Neo-Gothic style in 1858.
The Cathedral of St. Patrick is the largest Neo-Gothic-style Roman Catholic cathedral in the United States. It was dedicated to the Patron Saint of Ireland.
Although the construction of the cathedral began in 1858, works were stopped during the American Civil War and the temple wasn't completed until 1879.
Dissimilar to the Rest of New York City
The cathedral was designed to be one of the largest of its kind with two spires rising 330 feet (100.6 m) above the ground. Presently, the cathedral seems a little less ambitious if we compare it to the Rockefeller Center, located just in front.
St. Patrick's Cathedral is built of brick clad in marble, with a very characteristic Neo-Gothic-Style, making it a very unique building, especially when compared to the architecture surrounding it.
Inside, the church has two impressive pipe organs, of 3,920 and 5,918 tubes and a sculpture of Pietà, three times larger than Michelangelo's Pietà in St. Peters Basilica, in the Vatican.
A Privileged Place in the Heart of the City
If the cathedral wasn't located in the heart of Manhattan, it would probably not draw as much attention. However, due to its location, it becomes an extremely interesting contrast compared to its neighboring skyscrapers.
The cathedral is situated in the center of Manhattan, on Fifth Avenue, and is a definite must-see.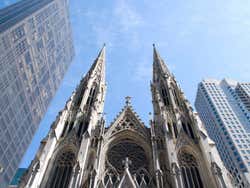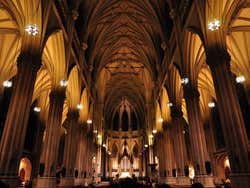 Schedule
Every day: from 6:30am to 8:45pm.
Transport
Subway: Fifth Avenue, 53RD St, lines E and M; 47-50th St-Rockefeller Ctr, lines B, D, F and M.
Bus: Eden Quay, lines 49, 49A, 49B, 50, 54A, 56A, 65, 65B, 77 and 77A.