The MetroCard is essential if you want to use New York's transportation, as you will only be able to take the Subway using this card. If you choose to take a bus, you can still pay by cash, but only with coins; therefore to save yourself some trouble (even if you're only planning on using the bus network) we recommend getting a MetroCard as soon as you arrive in the city. 
You can either purchase the pay-per-ride or the unlimited Ride MetroCard.
Pay-per-ride MetroCard
If you buy multiple rides with this card, the cost is $2.75/ride, otherwise a single ride is $3. This card can be used by up to four people and you have access to unlimited transfers between subway and buses during 120 minutes. In addition, if you charge the card with over $5.50, you can save up 11%. 
Unlimited Ride MetroCard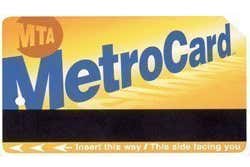 MetroCard
If you are planning to use New York's transportation during your trip, the best option is to buy an Unlimited Ride MetroCard.
Unlimited Ride MetroCard

| Validity | Normal | Reduced |
| --- | --- | --- |
| 7 days | $32 | $16 |
| 30 days | $121 | $60.50 |

The MetroCard allows you to use the subway and buses unlimitedly until 3 am of the last day. 
Where to buy your MetroCard?
You can purchase your MetroCard in any subway station. If you prefer using buses and don't want to go to a Subway station, you can get your MetroCard in any tourist office or in many general stores in the center.
There is a $1 charge to obtain both types of MetroCards.