Washington D.C.
Washington D.C. is the capital of the United States and the most popular city to visit from New York City. It takes approximately four hours to get to Washington D.C. by car from NYC.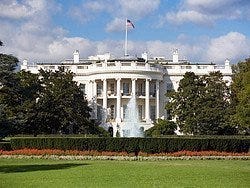 The White House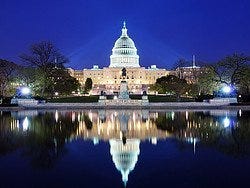 Capitol at dusk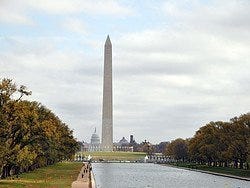 Washington Monument and Capitol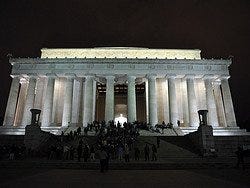 Lincoln Memorial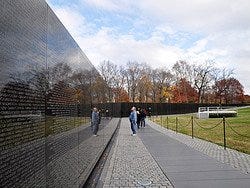 Vietnam Veterans Memorial
As a brief introduction, Washington D.C. was built with the idea that it would become the country's capital. President Washington commissioned the French architect L'Enfant to design the city at the end of the eighteenth century. Its name commemorates the first President of the United States.
Presently, D.C. is home to 8 million people.
Things to do in Washington D.C.
Washington D.C. is a city full of Governmental buildings, museums and historic monuments, most in the National Mall area, a park-like grand avenue in the city center. The most important ones are:
Governmental buildings: The White House, The Capitol and Supreme Court
Monuments commemorating the different Presidents: Washington, Lincoln, Jefferson and Roosevelt.
Museums: The National Air and Space Museum (not to be missed!), National Museum of Natural History, National Museum of American History, etc.
Monuments commemorating the different wars: The Second World War, Vietnam Veterans Memorial, Korean War Veterans Memorial, Battle of Iwo Jima.
Other visits: Arlington cemetery, Pentagon.
Besides these top attractions, if you decide to spend a night in Washington and have more time to spare, you can visit a lot of other interesting monuments and museums.
At night, the best idea is to visit the relatively lively area of Georgetown. You'll also find visitors going to the Lincoln Monument.
The majority of tourist attractions in Washington are free, which is certainly a plus.
How to get to D.C. from NYC
There are several options to get to Washington D.C. from New York City:
Guided Tour: Our tour to Washington is $140 per person and includes the pick up at your hotel and an English speaking guide.
Going by yourself: A return train ticket to Washington D.C. is approximately $150 (Amtrak from Penn Station) or $40 by bus (several bus companies).
Renting a car: This is a good option if you're going to stay several days or use the car for over a day. If not, the easiest option is to take the bus or the train. If you are convinced a car is the best traveling method for you, it is important to keep in mind that driving in the city can be extremely stressful, so the best thing to do is leave the car in a car park or in the outskirts and take the subway to the center of D.C.  
Accommodation
If you don't have a hotel booked in Washington, you can check out our accommodation search engine to find the best deals. 
Location
240 miles southwest of New York.
Map
Related activities