High Line Elevated Park, inaugurated in 2009, is one of the loveliest green-spaces in New York City. It was built on an old railway line.  
High Line is an urban park built on an elevated section of the City's disused Central Railroad. The elevated platform stopped being used in 1980. Twenty-three years later several ideas of possible usage were discussed and it was decided that it would be transformed into a park. The urban park project was finished in 2014.
High Line Park is 1.45 mile-long (2.33 km) and runs from Gansevoort Street to 34th Street in Lower West Side of Manhattan. This greenway is divided in three sections and has several accesses all along the park.
High Line has benches all along its path to sit and enjoy the views or lie and sunbathe, and has become a favourite among New Yorkers during the summer months.
The park was designed by James Corner Field Operations; and the first section was opened on 9 June, 2009.
Events
You will find people taking part in Pilate classes, Astronomy classes and guided tours in this linear park. All activities are free and are taught by volunteers.
You will be able to see the calendar of events and activities in the High Line website:
A Definite Must-See
Since opening, High Line has become one of the top attractions of New York City. Some even compare it in importance to the Empire State Building.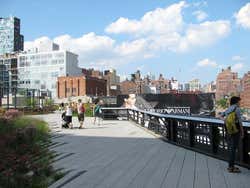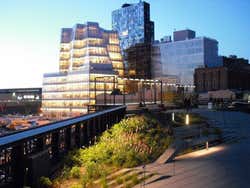 Schedule
1 December - 31 March: 7am - 7pm
1 April - 31 May: 7am -10pm
1 June - 30 September: 7am -11pm
1 October - 30 November: 7am - 10pm. 
Transport
Subway: The closest subway is 8th Ave - 14th St Station, lines A, C, E and L.
Bus: lines M11, M13, M23 and M34.