World Trade Center
Famous worldwide due to the September 11, 2001 attacks, the World Trade Center (WTC) included the Twin Towers in its complex, a symbol of the country's economic puissance since it was inaugurated in 1973.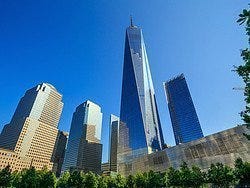 World Trade Center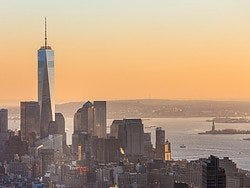 One World Trade Center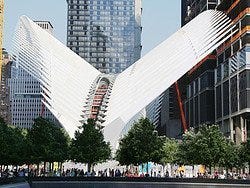 World Trade Center Transportation Hub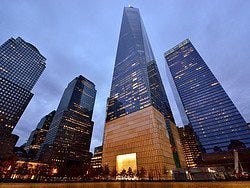 World Trade Center at dusk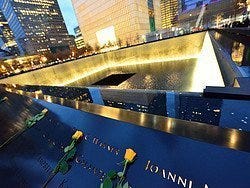 September 11 Memorial
On the 11 September, 2001, the World Trade Center was completely destroyed, killing almost 3,000 people and injuring over 6,000 people, who would be scared for life.
The area where the episode took place became a huge crater called Ground Zero. Plans for its reconstruction began over the following years and it is now practically finished. It includes the following buildings:
New World Trade Center
After the demolition of the Twin Towers and its adjacent buildings, the whole site had to be rebuilt. Among the different constructions, it is worthwhile seeing the One World Trade Center, a brilliant and stunning skyscraper inaugurated in 2014 which has become one of New York's main symbols.
One World Observatory
The new World Trade Center's main building includes three different observation decks in which you can contemplate the stunning views of New York City and feel the weight of its historical and emotional past.
National September 11 Memorial
Paying tribute to the past and trying to fill the future with hope, the National September 11 Memorial (also known as the 9/11 Memorial) is a haven of peace in the heart of the city with 400 white oaks and stunning waterfalls that fill two spaces representing the missing Twin Towers.
National September 11 Museum
Opened in May 2014, the National September 11 Museum (also called 9/11 Memorial Museum) pays tribute to those killed during the terrorist attacks. The museum includes photographs and voice recordings, and you can see some of the vehicles that were used on that day as well as numerous other elements that will transport you to the terrifying events.
World Trade Center Station
Designed by the Spanish architect Santiago Calatrava, the remarkable Transportation Hub has a large open mezzanine connected to an aboveground structure called the Oculus. It connects several train lines, subways and financial buildings in the area. The Oculus took six years to build and had a 70% increase on the projected price.  
Location
By Wall Street in Lower Manhattan
Transport
Subway: Cortlandt Street - World Trade Center (lines N and R) or Broadway - Fulton St (lines 4 and 5).
Bus: lines M05 and M20.
Map
Hotels nearby