The Federal Hall was the first capitol of the United States. Established in the seventeenth century, George Washington was inaugurated as first President of the country here. 
The United States has few landmarks as historically important as New York's Federal Hall. The Hall was built in 1700 as the City Hall and later, in 1789, was the site of George Washington's inauguration as first President of the United States.
The Federal Hall was used as Capitol only for a year before Philadelphia became the provisional capital of the United States. It then became City Hall again until 1812, year in which it was demolished.
The Hall
Even though Federal Hall isn't the original building, it was designated as Federal Hall Memorial Historic Site in 1939, and is probably the best conserved building in New York.
The Federal Hall is home to a small museum that explains the history of the building and which contains some important items, such as the bible that Washington used to swear his oath of office. You will also find a small tourist information center.
At the entrance of the building, there is a statue of George Washington.
An Unmissable Visit
Very close to Wall Street, and with a free entrance, there is no excuse for not visiting the Federal Hall, even if it's just for a quick visit.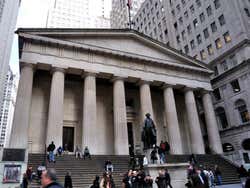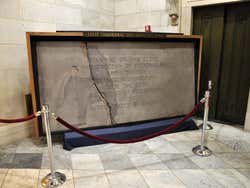 Schedule
From Monday to Friday: 9am to 5pm.
From the 1st to the 31st of August, the Federal Hall opens 7 days a week.
Closed on public holidays
Transport
Subway: Broad St. Station (lines J, M and Z) or Wall St. Station (lines 2, 3, 4 and 5).
Bus: lines M1 and M6.