Statue of Liberty
New York's most famous symbol, the Statue of Liberty, also known as Liberty Enlightening the World, is found on Liberty Island.
Statue of Liberty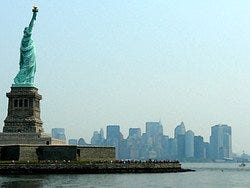 Statue of Liberty and Lower Manhattan
This colossal monument of 151 feet 1 inch from base to torch, located on an island in Upper New York Bay, can only be visited by ferry. To get to the boat visitors have to head to the dock in Battery Park in Downtown Manhattan.
History
The Statue of Liberty was inaugurated October, 1886, and was given to the Americans by the French to commemorate the 100th anniversary of the signing of the Declaration of Independence. In 1984 it was designated a UNESCO World Heritage Site.
The statue was designed by Gustave Eiffel, the architect behind the Eiffel Tower.
Visiting its observation deck 
On the 4 of July, 2009, coinciding with Independence Day of the United States (a very important date for the Statue), the access to the pedestal was reopened. It had previously been closed since the 9/11 attacks.
To go up to the pedestal you will have to buy the tickets on the Internet weeks in advance, otherwise it's impossible to visit the statue's observation deck, since only 30 people can enjoy the views per hour.
Some useful tips
If you want to avoid queuing, we suggest arriving at Battery Park as soon as they open the dock and start selling the boat tickets. This way, you will be able to skip the lines and you might be lucky enough to access the inside of the Statue, since there are very few places available. 
If you arrive after 10 am, the line usually takes about an hour until you can take the ferry to Liberty Island.
What's more, make sure you have enough time to visit Ellis Island, which is the following stop after Liberty Island.
When to visit
Depending on the season, the ferries normally operate from 8:30 am to 9:30 am. To come back to Manhattan, the last ferry leaves Liberty Island at 4:30 pm.
Open every day of the year except on 25 December.
Fares
The ferry price includes a visit to Liberty Island and Ellis Island.
Adults: $18.
Children (ages 4 to 12): $9.
Seniors (over 62): $14.
Free with the New York Pass.
Transport
Ferry from Battery Park. To get to the dock:
Subway: South Ferry (line 1), Whitehall St/South Ferry (lines R and W) or Bowling Green (lines 4 and 5).
Bus: lines M1, M6 and M15.

Map
Hotels nearby