Madison Square Garden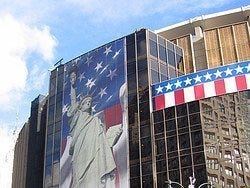 Madison Square Garden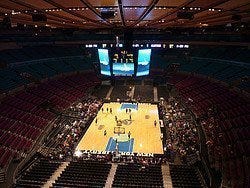 View of Madison Square Garden from the seating
Madison Square Garden, commonly known as The Garden, is New York's most important sports arena. It is colloquially known as "The most famous coliseum in the world".
With five floors and a capacity for 20,000 people, Madison Square Garden is well known in the boxing world. During decades, it was the boxing mecca and in its ring have fought champions such as Muhammed Ali, Rocky Marciano, Joe Fraziero or Mike Tyson. Currently, MSG still organises boxing matches, but most fights have been moved to hotels like the MGM Grand in Las Vegas.
Presently, the most important sports events that take place in Madison Square Garden are basketball and ice hockey. Three professional teams use this arena as their base: New York Knicks (basketball), New York Liberty (woman's basketball) and New York Rangers (ice hockey).
Visiting Madison Square Garden
To visit this stadium you can either get a Guided Tour or buy tickets to one of its many shows.
In the Guided Tour (All Access Tour) you will get to see the changing rooms, the stadium or the trophy room, and you'll be told lots of interesting anecdotes. This tour is a little pricey, but is free for those with the New York Pass.
If you want to do the Guided Tour without queuing, you can buy the tickets online:
If, on the other hand, you would like to get tickets to one of its sporting events or concerts, you can check out the event calendar in the following link:
Location
Penn Plaza 4, New York.
When to visit
Guided Tour: from 11 am to 3 pm.
Fares
Adults: $26,95.
Children (ages 6 to 12): $19,95
Seniors (over 62): $19,95

Transport
Subway: 34th St. Penn Station, lines 1, 2, 3, A, B and C.
Bus: lines M4, M10, M16, M34 and Q32.
Map
Hotels nearby