Times Square is now considered the heart of New York. In time, it has become the symbol of this vibrant metropolis. 
With its neon lights and billboards, Times Square is New York's most famous landmark and is the liveliest area in the city, located at the intersection of Broadway and 7th Avenue.
In Times Square you will find bars, restaurants, theatres, museums and a great atmosphere.
History
Times Square as we know it is relatively recent. In the late '90s the area was known for its drugs and crime.
During Rudolph Giuliani's administration as Mayor of New York City at the turn of the century, Times Square began to change for the better.
Our favourite part of NYC
Times Square is the liveliest part of Manhattan and our favourite area to find accommodation, have a bite to eat and have a drink. Whatever specialty you're looking for; you'll find it in Times Square.
As a top attraction for tourists, Times Square can sometimes be a little bit oppressive as it attracts about 330,000 people each day; but, this is also part of its charm.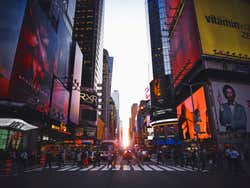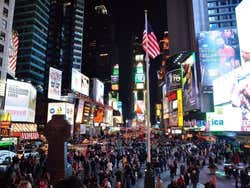 Transport
Subway: Times Square - 42nd St., lines 1, 2, 3, 7, N, Q, R, S and W.
Bus: lines M6, M7, M10 M20, M27, M42 and M104.